no month goes faster than December with its frantic countdown to Christmas.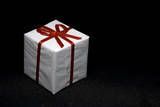 even as I write, i'm still going ga-ga over thinking and juggling names in my head as to which gift goes to who... i just can't seem to accomplish a final list... even with the early prep and foresight, budget never seems to be enough... hahaha! the heck if my wallet and account goes near bankrupt, i will splurge... and i'll pour gifts... i'll be a santa... it's what makes me really feel joyful during christmas... the fact that i've shared...

the seasonal lights are going up in windows and on lawns all over town... it's a lovely sight and the best memories to keep... no matter what, we find a way to celebrate... despite the untimely attempt of trillanes to salvage us from the ill-government he so perceives... despite the limits in resources... and the prevailing load of work that never seem to cease in piling up, even when i try to finish everything, before i know it, i've another assignment... hahaha! cge... subukan ulit ang tatag at tibay ko.... hahaha! sorry.. inspirado si prue... tormented man ang spirit, weak man ang flesh ngayon... strong-willed naman ang puso ko ngayon... and if the universe knows me very well... huh! it would know that my greatest power emanates from the heart...

anyway, back to figuring out what gifts to get for friends and family... gaaahd... it is the harder part... especially when you realize most of them almost has everything they want... or better yet, to put it in a clearer light, at least with the things money can buy... hahaha! admittedly, what we ultimately need in life are the ones that can't be bought...

calling on my friends, acquaintances, family and other loved ones... care to share what you wish for? hehehe! just keep it to real, attaiinable wishes... okay... hahaha!


now, the hardest part of course... my gift for my angel? my angel isn't really materialistic... a simple guy with simple joys... hmmmm... how about wrapping myself in a box? hahaha! difficult ata yun... i'll definitely need the biggest balikbayan box then... hahaha! really... grabe... i still don't have a concept... there's got to be... and yes, my self pressures me because i want it to be special... hmmm... how about... hmmmm.... nuninuninu... hehehe!

oh well!

here comes december... and may it be a happy yuletide for all of us... mwah! mwah! mwah! to everyone!!!