i met him sa mall... he was just by himself... i've met others like him in puerto galera... but he's much different...

and since that night he went home with me, halos araw-araw, kasama ko na siya... protecting me...

friends and officemates have been amused with him... others were scared... remarks like 'what was i thinking'... 'ano bang nagustuhan mo sa kanya?"...

oh well, for one... kakaiba siya... second, he's cute in his own unique way... three, after praying over him, he seems effective...

meet my new companion... TABU!!! hehehe!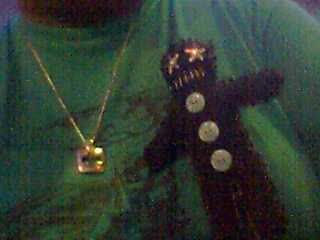 i've three colors... green, black and red... hehehe! and almost everyday, i've tabu pinned on my shirt... hehehe1 cuuuuttteee!!!