the breeze was just perfect to stay outside… and I was so tempted to visit U.P. and lie down on my back sa sunken garden… that's it… but then I saw Menggay just petiks in the office… hahaha!

"Menggay, isaw tayo sa U.P.?"

"o sige kuya otep."

"liezl sama ka!"

"mag-i-isaw kayo? sama ako." Great… Angel (not my hubby) and Kaye will be coming too… this will be fun… gahd… pabata ng pabata ang mga nakakasama ko… hahaha!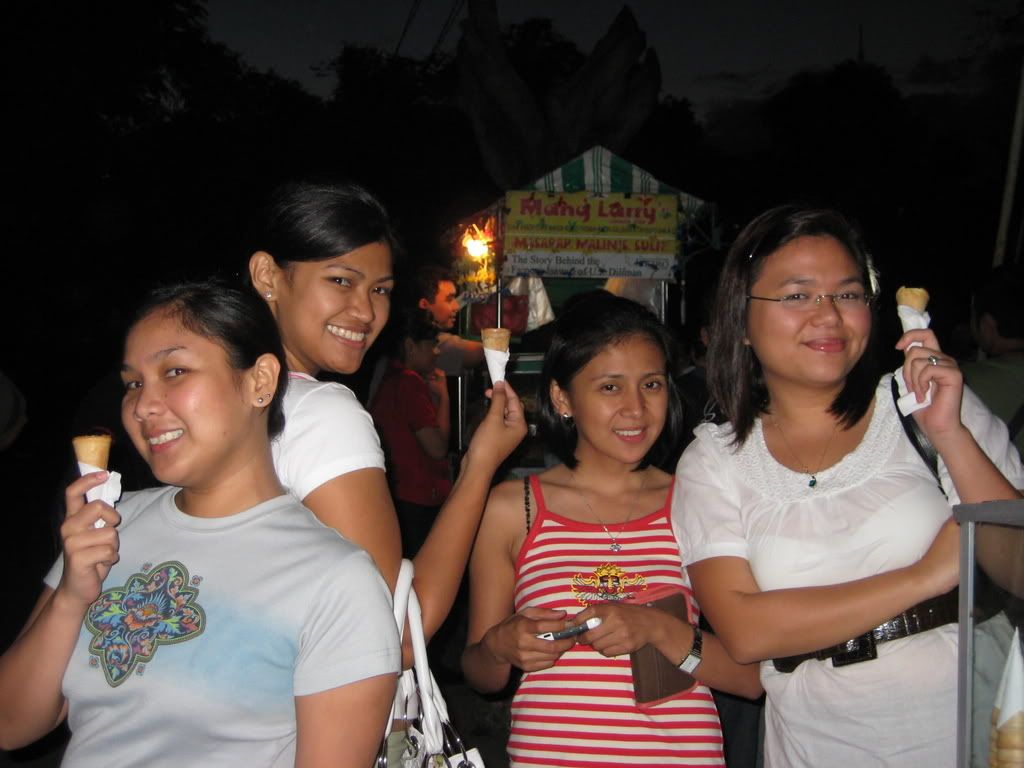 And so instead of sunken garden, we went straight to where else but the famous isawan of Mang Larry, just in front Kalayaan Residence Hall… and the sight that greeted us is the usual big crowd just dying to have their sticks of appetizing bituka at kung anu-ano pang klaseng isaw... Kuya Nelson and Mark (angel's hubby) came with us too... and while waiting for our orders to be grilled, we all had sorbetes first... hahaha! talk about craving for streetfood...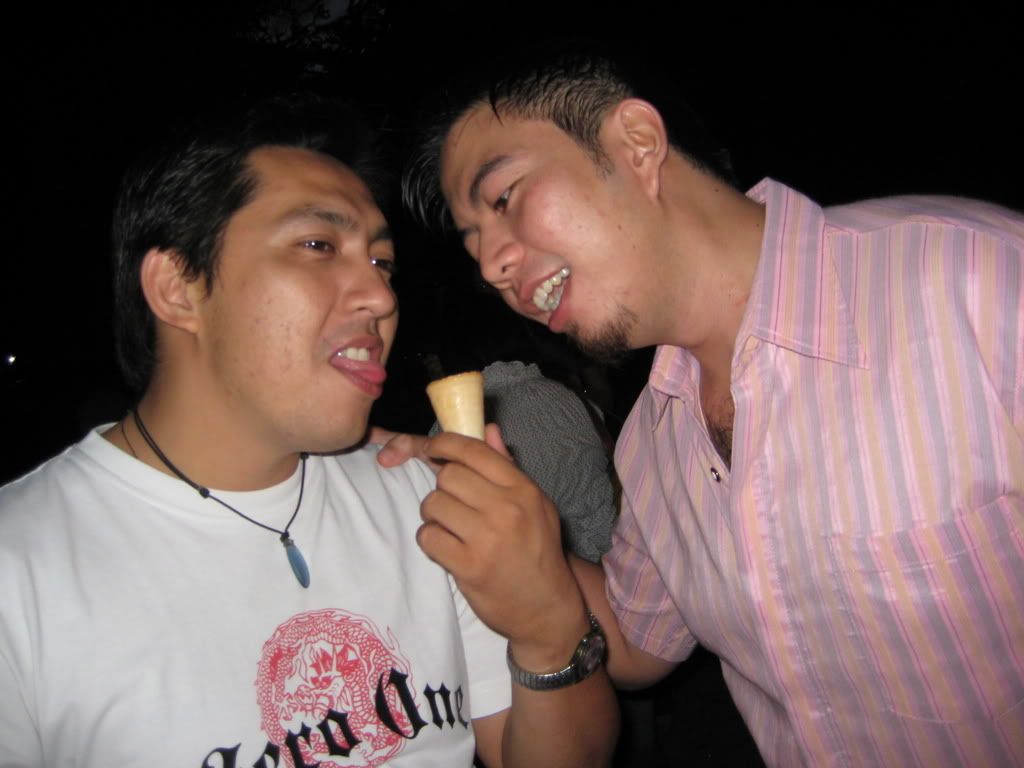 Mind you… it isn't just UP Diliman students who frequent the stall… even professionals and other non-UPs are suki na talaga ni Mang Larry…. Kasama na kaming mga tiga-istasyon…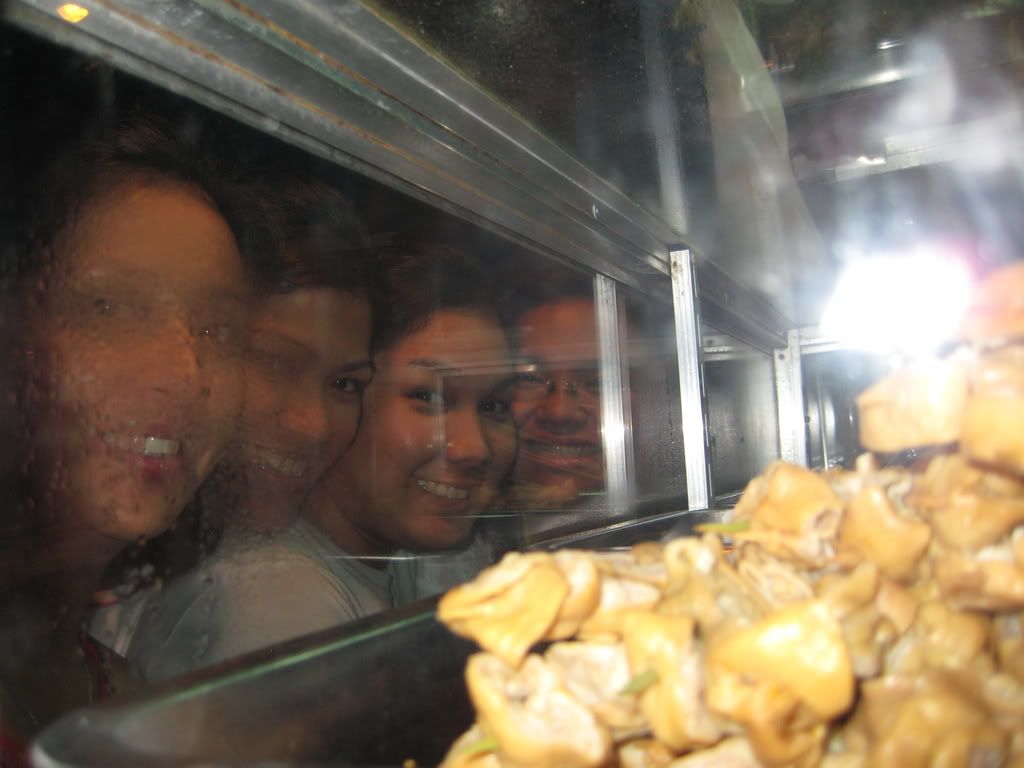 'Yan ang very popular isawan ni Mang Larry… and his inspirational success story has repeatedly been done sa tv and print… as refreshed by writer Reynold, Mang Larry formerly worked as a security guard but later resigned and opened a meager isawan in 1987…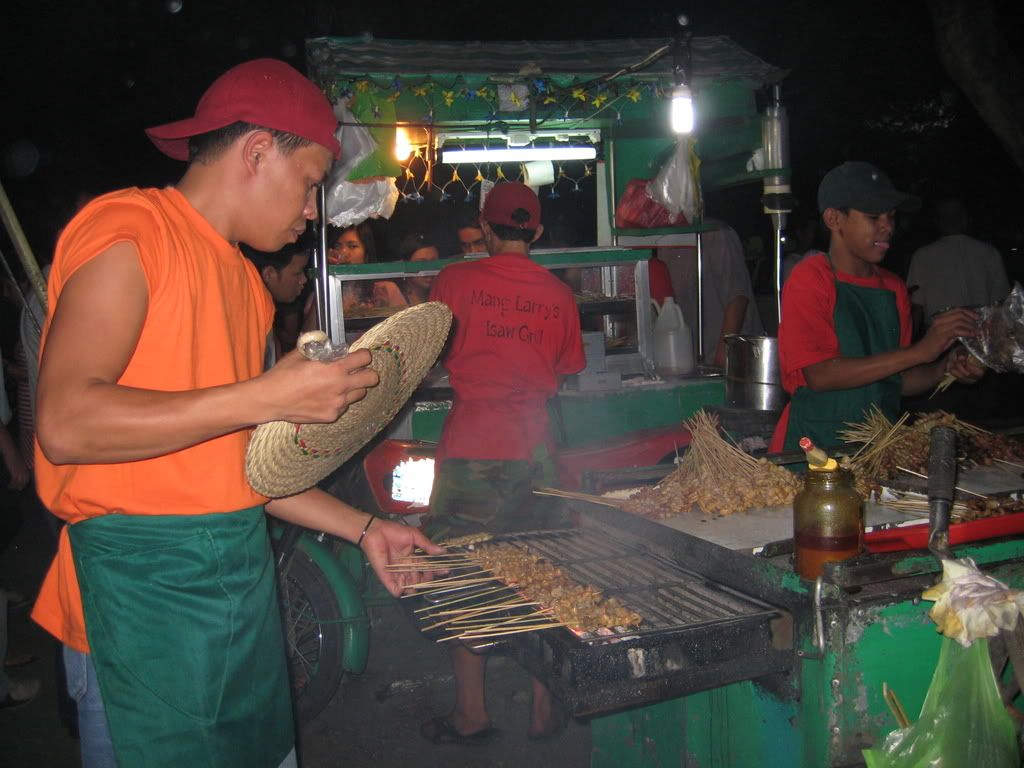 it was Mang Larry's only source of living which supported his family of 3 kids… and with his perseverance and a stroke of luck, Mang Larry's small pwesto then grew… and earned more… started to expand… and before he realizes, he already has a flock of sukis sa kanyang mas malaki nang tindahan ng isaw from morning till sundown…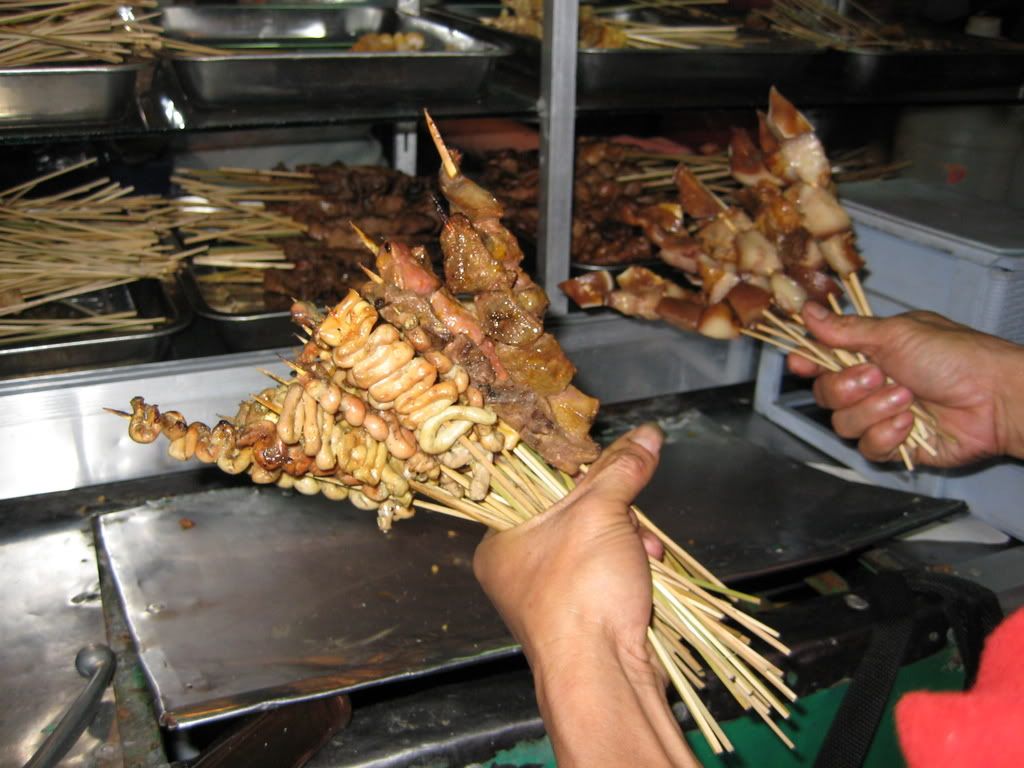 Mang Larry's only puhunan in '87 was P300… who would believe na ngayon, he invests P10,000 everyday just to keep supplying a whole day's demand ng kanyang appetizing grilled chicken and pork innards, tenga, dugo or betamax, chicken feet and barbecue… I doubted at first pero come to think of it…. Sa dami ng bumibili sa loob ng isang buong araw, it maybe true… now I wonder, magkano kaya ang kinikita ni Mang Larry sa isang araw? Pretty hefty for a humble isawan I'm sure…

there was no way to extract the figures… I heard kasi may dues or whatever taxes (?) din na binabayaran ata si mang Larry sa loob ng unibersidad… but I suppose, the earnings would be a little over decent…

And it's what Mang Larry deserves… pinagsikapan naman niya yun… such a responsible provider too… his children are flying high with colors in school…. He also a has nurse now who works abroad…

Like they say, Mang Larry is the man!!! Hehehe! Now, he's reaping the sweet fruits of his labor.

His pride in the business? Ang kanyang isaw…. MASARAP, MALINIS, SULIT!!!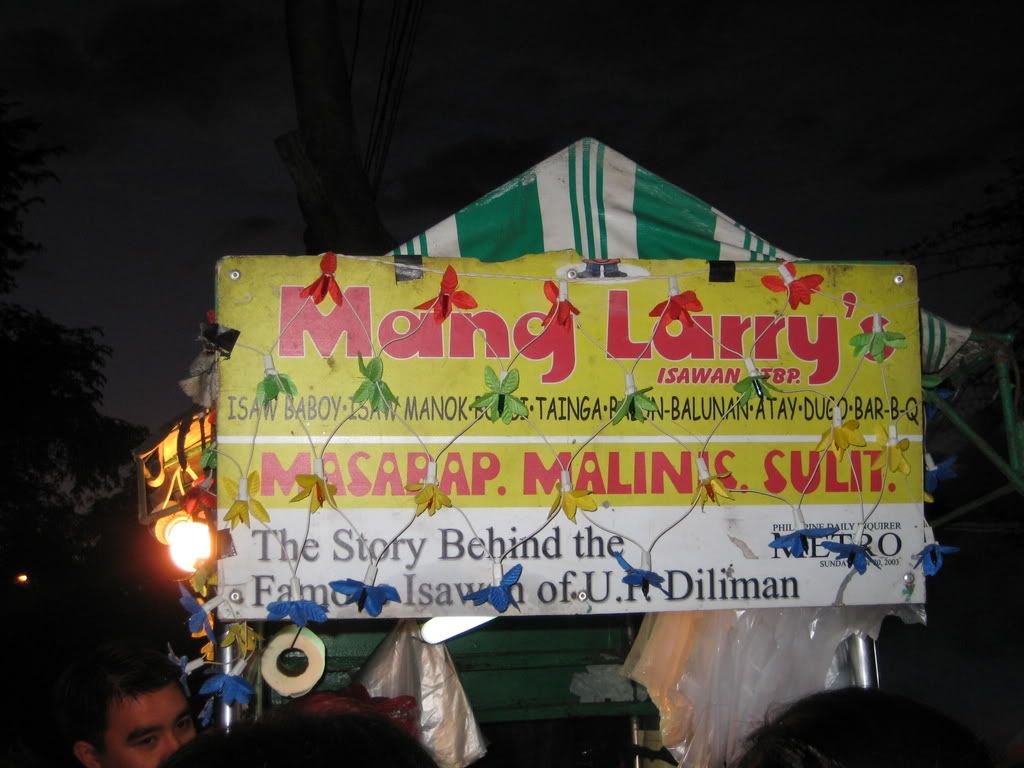 Hmmm… YUMYUM talaga!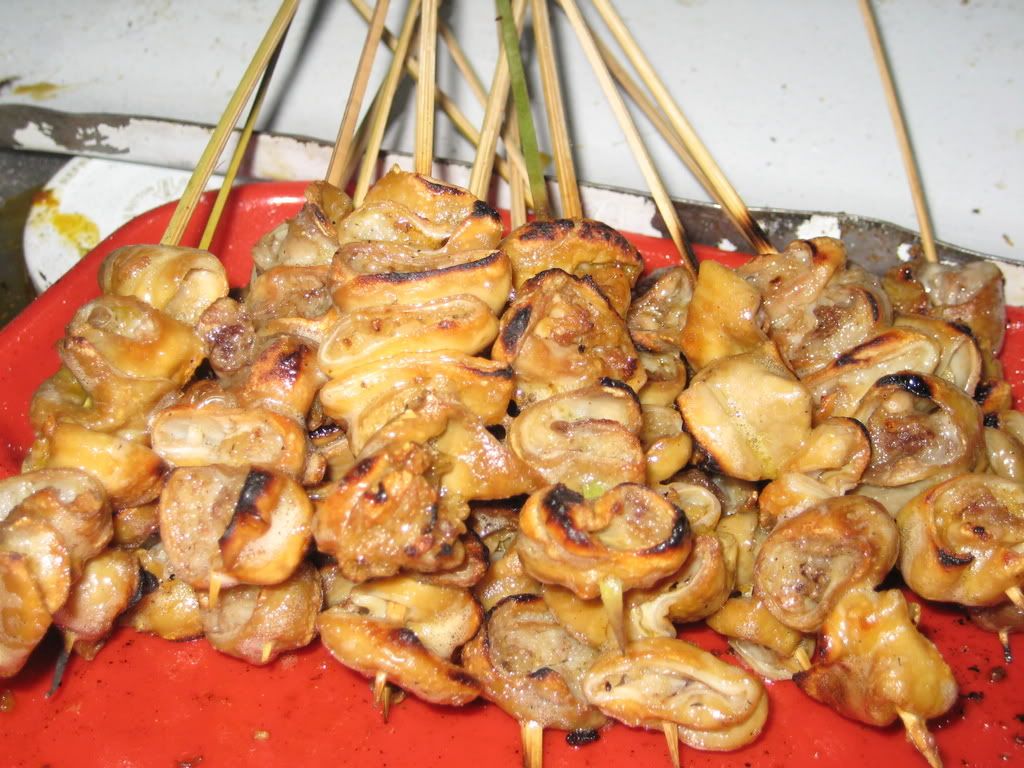 P.S.

If I were my normal self, I would have devoured 10 sticks of chicken intestine, 10 sticks of isaw baboy and 10 barbecues… but since I'm killing myself with this diet, I'm proud to say, i only had 4 sticks of isaw manok and 4 sticks of barbecue…

That was it… it was already my dinner… oo noh! Maniwala na kayo please! Hahaha!