i think it was a week ago when Manny interested me about the feature of discovery channel (not sure...) on people who fear getting old... we were just talking about it 2 nights before he saw it... i remember telling him "sobra akong takot tumanda..." that just thinking about it practically creeps me out...

here i am, suddenly researching on it...

GETTING OLD PHOBIA:
(Gerascophobia, Gerontophobia, Fear of Old People, and Fear of Growing Old)

1: getting old phobia: a persistent, abnormal, and unwarranted fear of growing old or old people , despite the understanding by the phobic individual and reassurance by others that there is no danger. 2: getting old phobia: a strong fear of, dislike of, or aversion to growing old or old people...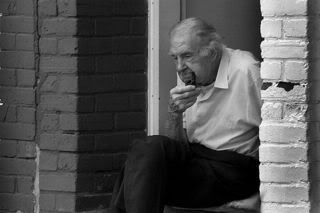 not all my friends know... well, i am actually not sure who knows about it but i am sure i've shared this with close friends... other than the fact that i fear growing old ALONE, it is the "growing old" per se that i am so terrified with...

okay... this may be the reason why my perceptions on death is so unorthodox... it isn't like as if i invite death to come my way but i hope it does before i wrinkle to kingdom come...

what about growing old anyway?

i don't know... i guess i don't want to be walking with my back arched... bald or with gray hairs... wrinkled skin, if not sagged fats...

ewan ko...basta... i feel that no matter how much i swear to be smiling everyday even when i'm old, the thought that you're life is wilting away scares me...

but is it really just those?

i don't want to reach the age when i can barely recognize the people around me... not remembering their names... not being able to wrestle... that i will have to be accompanied everywhere i go... kung meron mang aalalay sa akin...

i want to be remembered young...vibrant... full of life... free-spirited...

able to throw the tighest embrace and the warmest smile...

and gahd, i just realized now... what if i unfortunately don't lose weight by the time i'm 60...? inaykopo...! paano na? with bones so weak... grabe... baka i won't be able to get up from the bed na... hahaha!



can you imagine?