why were we in bohol? whatever brought us there? i would have stayed in manila and earn from that extra week of work but instead, i had this strong urge to fly with my bestfriend to bohol... it wasn't plainly a vacation after all... what with the heavy luggages and huge balikbayan boxes and the severe heat you'd experience only in far flung provinces (i don't know... it's an observation... mas mainit talaga sa probinsiya... hahaha! not that it's a bad thing... hehehe!)


wait... just a quick thought... i'm not glorifying myself nor the intentions of our trip... but i have to say, i am amazed myself on how i saw the wisdom in our intentions... after all, i am normally a bad person... hahaha! really... you just don't know what kind of evil corrupts this big lump of lard...

piper's brainchild was born from a heart that's pure not everybody can have... and i am proud of her... the HAPPYness CAMPAIGN as symbolized by the HAPPY SUN will spread rays of sunshine to so many kids... it's her advocacy... to make people happy... to be the host of an epidemic...

i remember her telling me... "hindi siya big thing ha... it's just a personal thing..." how can it be just a personal thing... it's always a big gesture when you make someone happy... not only does it reflect your truest content in what life gives you but also how you express your state of being... and sharing is always the most noble thing to do.

to whom much is given, much is required... we all have it in our hearts to share... to give... to offer a hand... sometimes, we just need a push... but with piper, she has 2 bright and happy hearted kids to inspire her...


it was gabie and kyla who came up with the logo... it's their visualization of what a happy sun is... simple and with a very clear message... the sun smiles on us despite the adversaries in each life... a happy sun would also mean that all shall pass and that one day, we will have a happy day...
such uncorrupted thoughts from piper's girls... makes me also realize, we are all HAPPY SUNS... we can be a ray of sunshine to anyone... we just need to want to be... to feel and express the want... we need to want it... will it... enjoy being the happy sun...

where then does the happy sun rise first? it was a random pick... the one with highest recall... bohol was piper's most loved place... well, anyone who has visited bohol will love it... serving as a sanctuary for endangered tarsiers... the frontiers of crystal waters and rich ocean life... the white sands... it is a natural beauty that takes away your woes...

but yet, behind the serenity and chastity of its beauty, there lies the bitter truth... a badjao community who have been naturally deprived of comfort... the adults and ancestors may have adjusted to their way of life... but what about the kids? now that all on earth seem to advance and develop, are they able to cope up? it is funny... give them a celfone or ipod, it won't serve it's purpose... advancement isn't what they need to cope with life...

just simple joys... it's all they would want... comfort... and the promise that they will have a chance... just a chance for a better future.,,

perhaps it was pre-destined that a friend from our previous program decided to settle in bohol... who would know that one day, she'll be an instrument and the happy sun's link... she was quick to reply to piper's request... Ate Marie found the badjao community in Dauis, Bohol.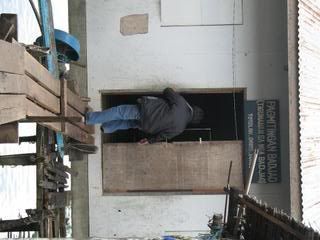 the badjao daycare center was DSWD's recommendation... from what piper was told, their classes had to be suspended due to lack of chalk.. yes... just a meager chalk.. the ones we just play with when we were in school (i play with them...what a silly ass i was)... the ones that can be bought for 60 pesos per box... there's even a 20/box... but even at a low cost, the children's education will have to cease and wait... no one wants that... not even the volunteer teachers... it is just what reality presents for the moment... resources are limited...

they receive support from the local government unit, albeit not enough... for what reason in such deficient action, we never intended to find out anymore...

the daycare center had insufficient books and other educatioonal tools... the kids have to brave narrow planks just to reach it even... but unfortunately for one kid, it was his road to a short life... news was one kid died the week before we arrived... he fell from the planks... oh god, the price that has to be paid for education... the only best way to see it is at least now, the same kid is now an angel...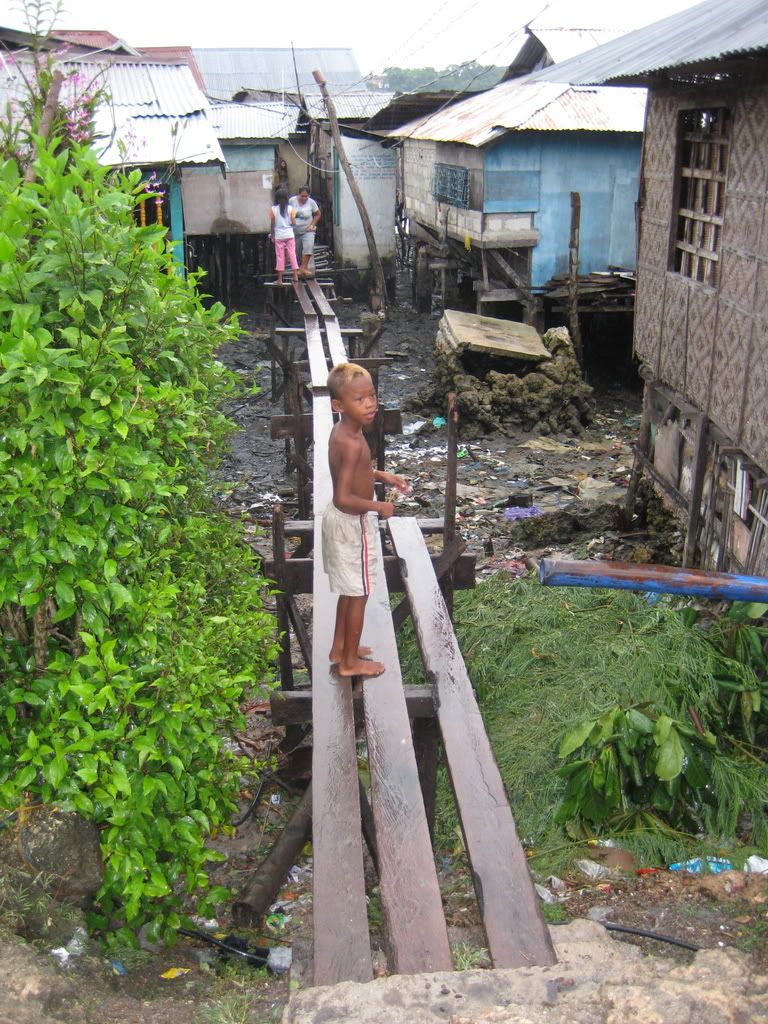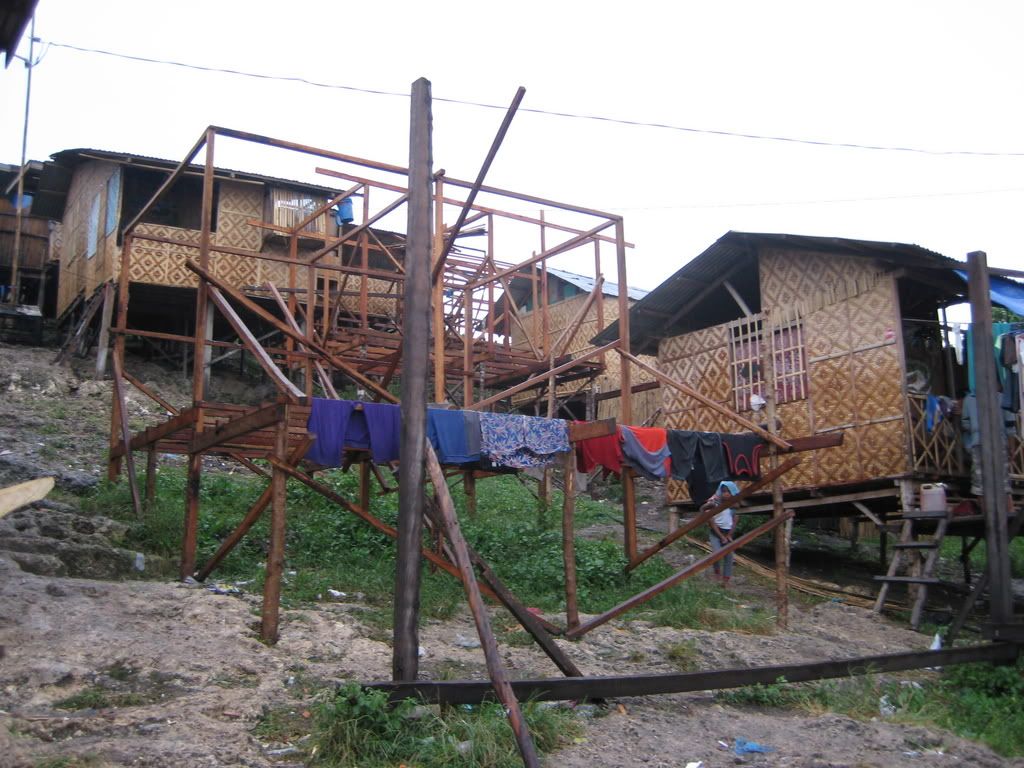 during our ocular, we were surprised to actually witness huts being constructed... all the while, i thought the badjaos still settle on sea... according from the dswd representative, they are trying so much to persuade every badjao family to build homes on land surface... livelihood training is being provided for parents too... thank god they're willing to leave their domain... i've been to other regions and unlike the badjaos, most that i have witnessed weren't embracing opportunities...

the sun has smiled even before we came... all they needed was a reminder that they are not forgotten... that there's a reason to be continually happy... the badjao children especially... every kid has a right to good food... a chance to play with toys... to be educated... they deserve to be happy... even for one day, we can attempt to instill the meaning of happiness...


and so we left the badjao community HAPPY... knowing that when we return the next day, 70 kids will have a chance at the feeling... and to know that we are all provided the oportunity to influence lives is something we thank God for...

what surprises await the kids anyway... hmmm...

there's the happy sun bag which was customized... part from the fact that it carries goodies, it can be used by the kids when classes resume...

then there are books donated by friends from QTV's AT YOUR SERVICE... (nice noh? dos and siete can work together for a common cause..)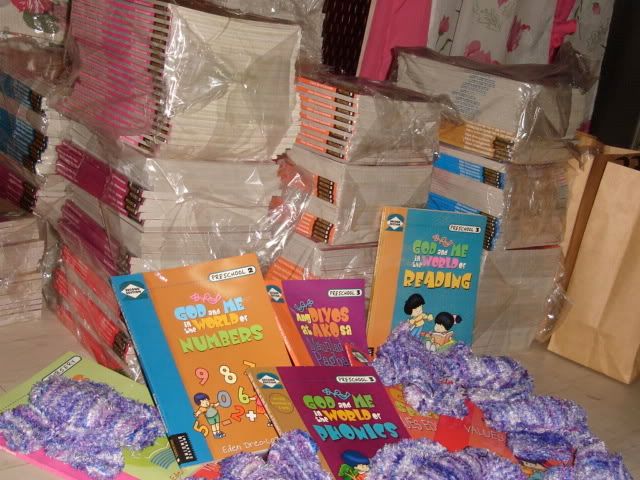 and the boxes of chalk..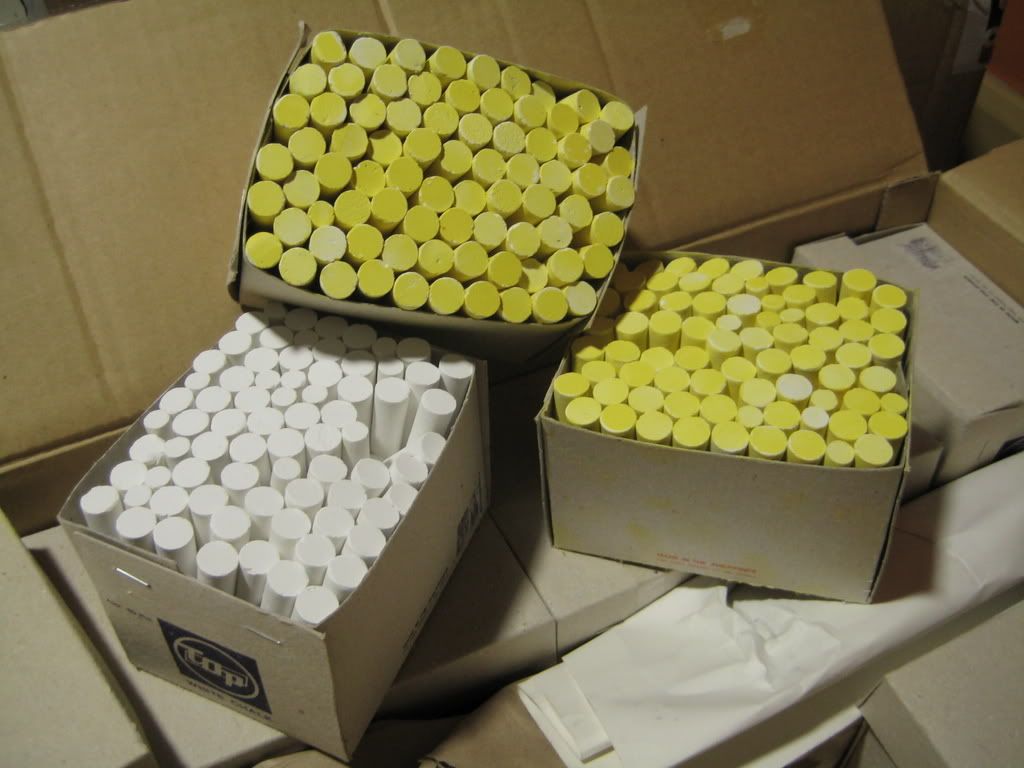 toys...

chicken and spaghetti...

and there's grocery bags too for the parents...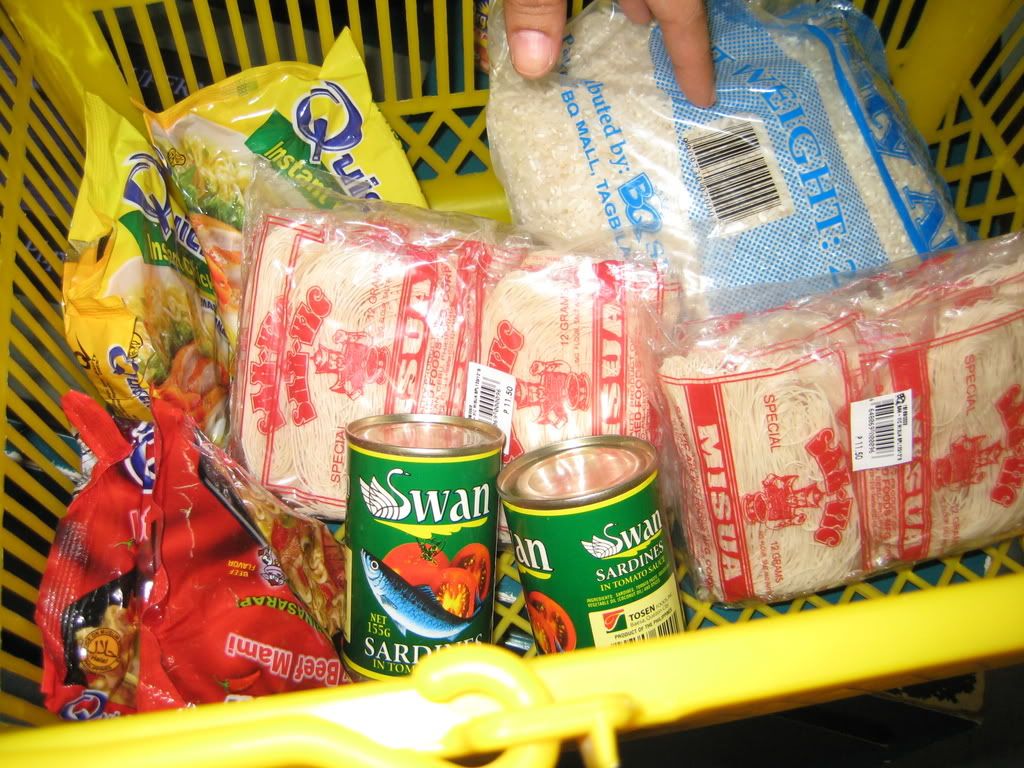 and for entertainment, we'll bring along a clown...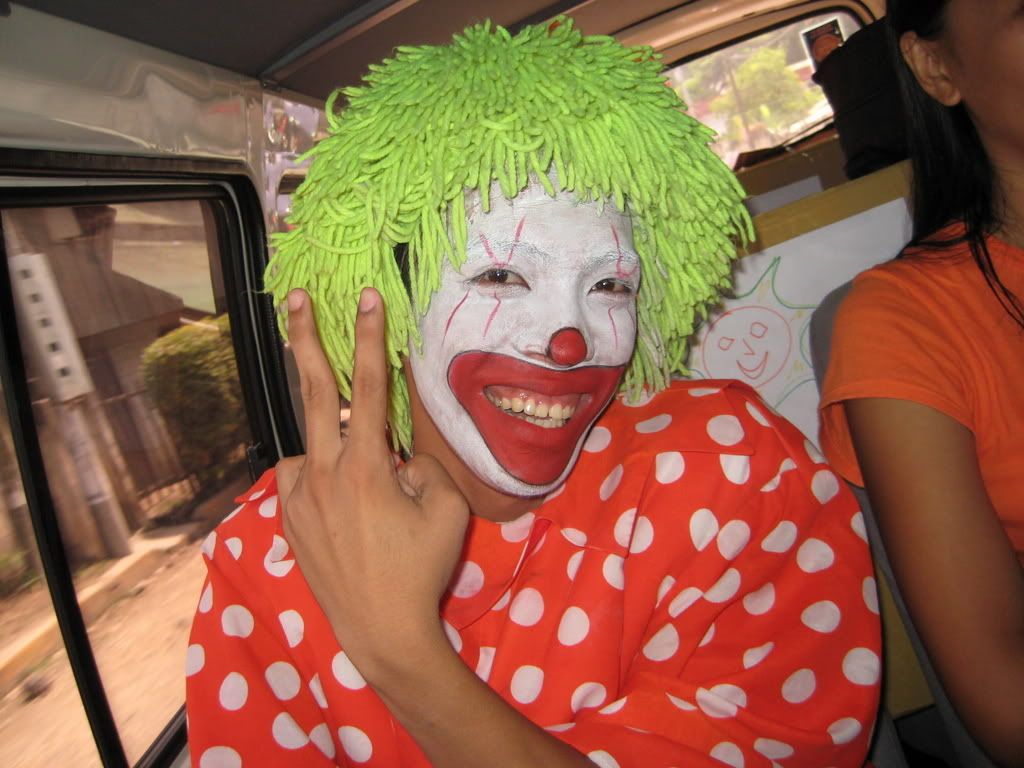 and bohol's BrownBuds, the region's prime reggae band who volunteered to perform for the kids...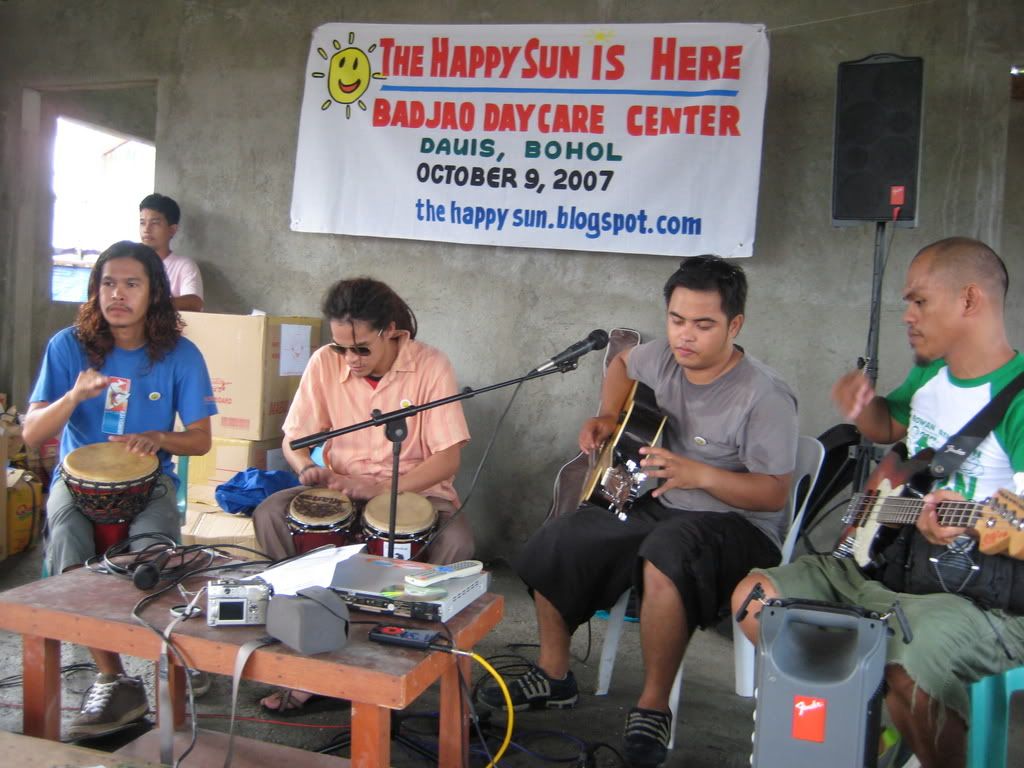 then of course, to serve as a reminder to the HAPPY feeling, the happy sun pins...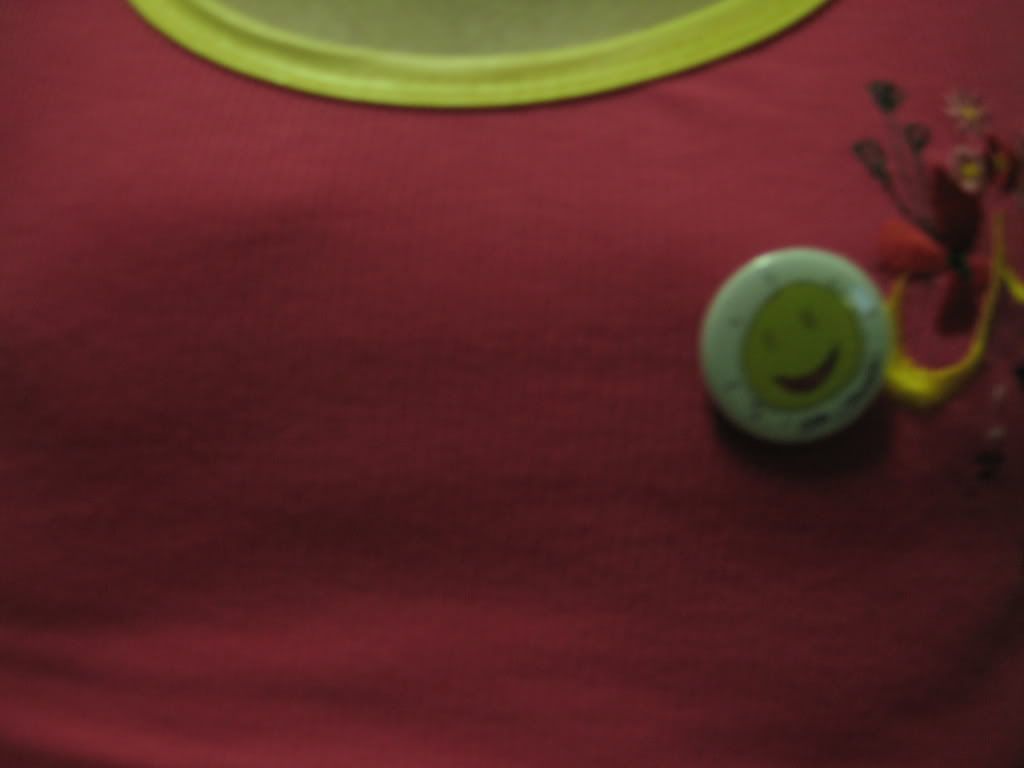 FOR FURTHER REFERENCE: you are all invited to please hit on piper's BRATTYNELLA blog and the HAPPYness CAMPAIGN blog... we are more than glad to share our happy experience with you...
VIDEO COURTESY: ate marie a.k.a. phoebe halliwel... mwah!