day 2 in bohol was bound to be the HAPPY SUN DAY despite the threat of a heavy downpour... oh well, not even the dark clouds will stop the charmed sisters...

we picked up ate marie a.k.a. phoebe from her house... her hubby and the rest of the helping hand were all ready and armed for the big day...


phoebe's hubby, el cid (now i am wondering if it's really his name...) is the lead guitarist and at times vocalist of the reggae band BrownBuds... they are Bohol's pride in the music scene...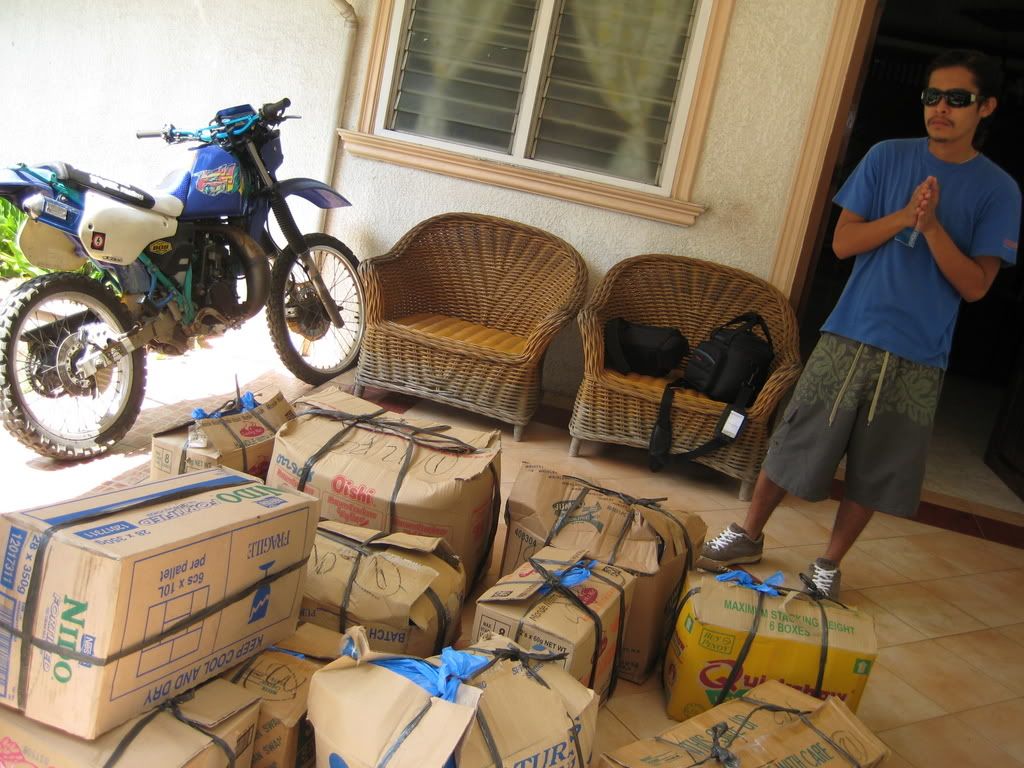 Morris, the long haired dude and slight look-a-like of orlando bloom, is the manager... but he too has a voice to flaunt (i heard...) and can do the percussions din... in fact, he's a member of the Rage band... i'm just not sure if he's the vocalist of the group...
the dreadlocks guy is Imbot (and til now, i'm not sure if i got his nick's spelling right... hahaha!)... he is the vocalist and major attraction of the band... a hearththrob... hmp! daming kalaban! hahaha!
and there's this bald guy i was so fond of calling 'wilson'... where and how i ever got that name? i don't know... maybe he looks like the ball companion of tom hanks in 'cast away'... hahaha! but the comic guy's real name is milo...

all were such angels...

on the way to the site, we fetch the clown... surprisingly, he was wearing his costume and make-up already... seemed as excited as the rest of us... hehehe!

we were greeted with happy faces when we reached the covered area of the community... kids who despite the language barrier were able to send messages of excitement... it was kind of hard to connect with them in the beginning but who needed words, everybody just exchanged smiles... it was more than enough for us... and the sight that some even wore their sunday's best was an indication that it was a special day for them....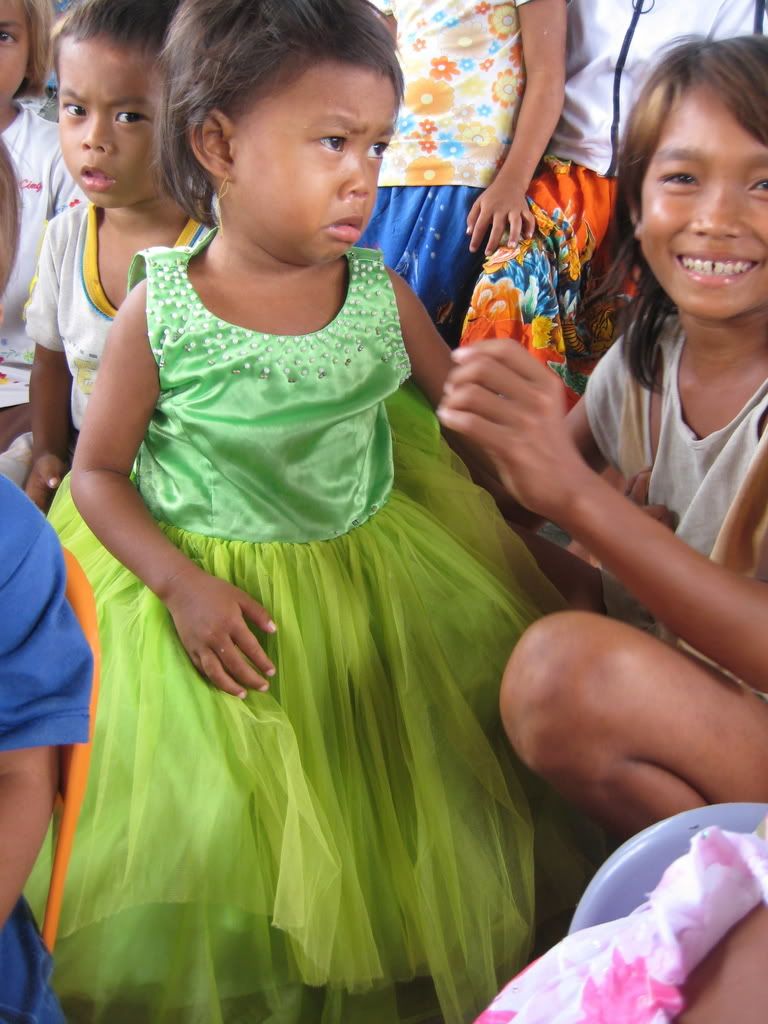 ate marie, being a boholana herself, hosted the gathering... i and el cid were designated photo and video documentarists while morris took charge of the music...

it started off with all of us dancing to Edu's Papaya song... hmmmmm.... wait... i knew the dance but was too shy to cause so much laughter... imagine a hippo dancing in front of so many kids... inay ko po... hahaha... later on, some of the kids joined... which actually segued to the papaya dance contest... winner brought home toys...

we weren't the only one though who prepared a number... the kids themselves rehearsed a presentation... touching indeed...

then we brought out the surprises... first on the list were the educational tools like books donated by QTV's At Your Service, the boxes of chalk and visual aids...

the kids all clapped in acknowledgment... learning will be fun now that they have a chalk to use on the board... books to read... and the walls of the daycare center will now be decorated with visual aids...

the volunteer teachers couldn't help but shed tears of joy and gladness... i was really touched... what noble hearts they have to be happy for kids na hindi naman nila anak and yet, putting their needs before theirs... sobra... such display of raw emotion...


more gifts showered that day... bagful of groceries for the parents... then more toys as prizes... and then the jollibee chicken and spaghetti... every kid was anxious to have their meal... but they didn't keep it to themselves... it was shared with parents... siblings... i noticed one kid was nibbling the raw noodles from the grocery bag... i mean, okei... hindi naman tayo sanay ng ganun... either he was too hungry or he preferred eating it that way...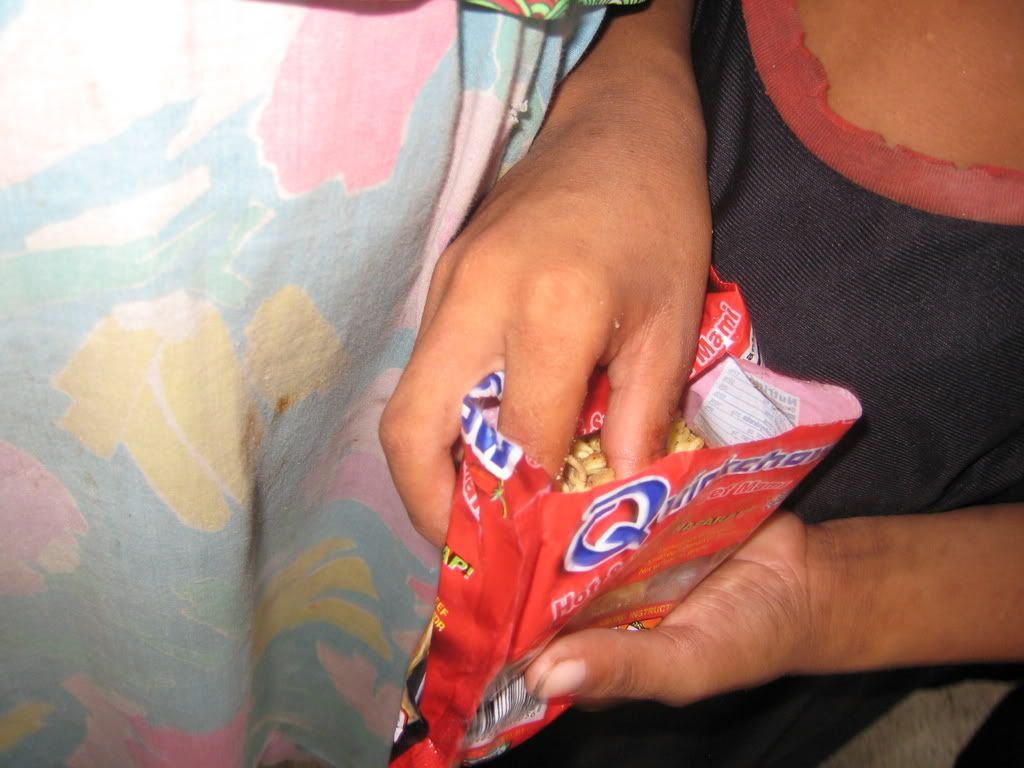 but of course, pity is the last thing they need... fine... this is just me thinking aloud... i am with anyone on that, mas nakakaawa sila kung kaawaan sila... we need to see (and make them realize...) the brighter side of their life... but i am just human, now that i am staring at the pictures again, i am struck with the bitter realities of life... OA as it may sound, ganun ba talaga? some are so much less blessed... why can't it just be that everyone... as in everybody enjoys the same benefits of comfort... oh well, pardon me for being melodramatic... it just hits me sometimes...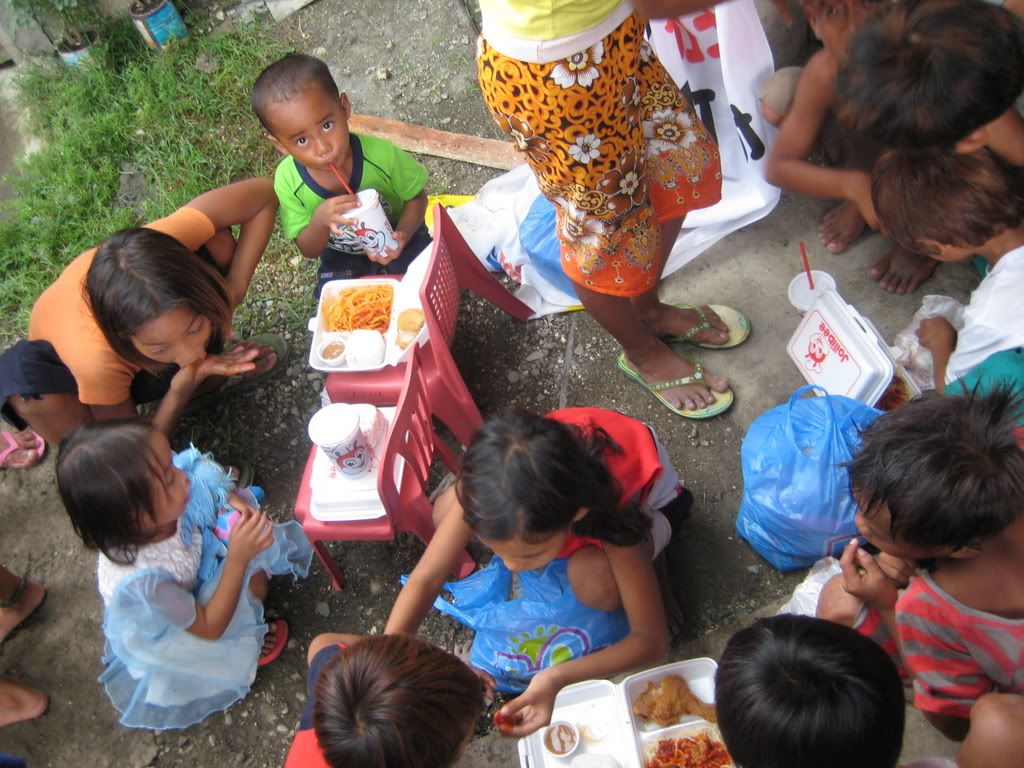 while i was taking pictures, i passed by one girl... smiled... the next thing i know, i had this butterfly in the stomach... i was so moved... she raised her hand and offered me her chicken... i might have looked hungry myself... hahaha... but really, it was obvious she very much liked the chicken and might have been kulang pa nga considering that she was sharing it with another kid... but good god, she was offering me a bite... so touched that i wasn't able to click my cam... but who needs the pic anyway...

Morris, El Cid, Imbot and Wilson provided the entertainment... sang two of their famous songs... Biyaheng Bohol and Olah...

the kids were so excited when we showed them the Happy Sun Backpacks... they were chaotic but in a nice way... just really clamoring to have a bag full of goodies and school supplies...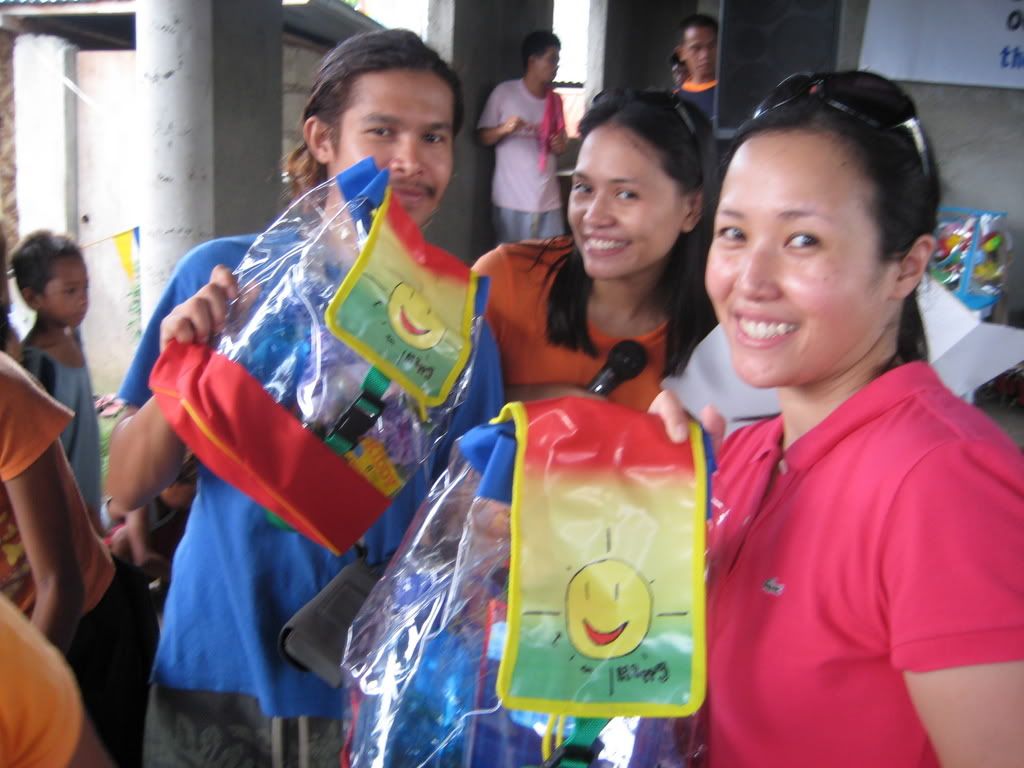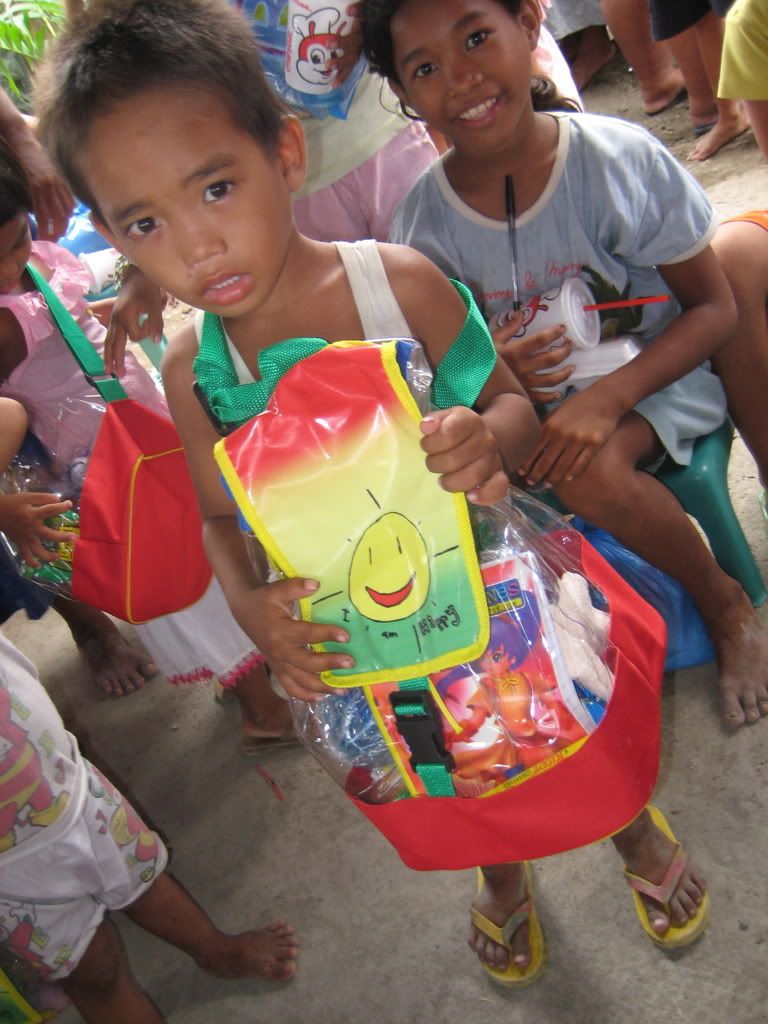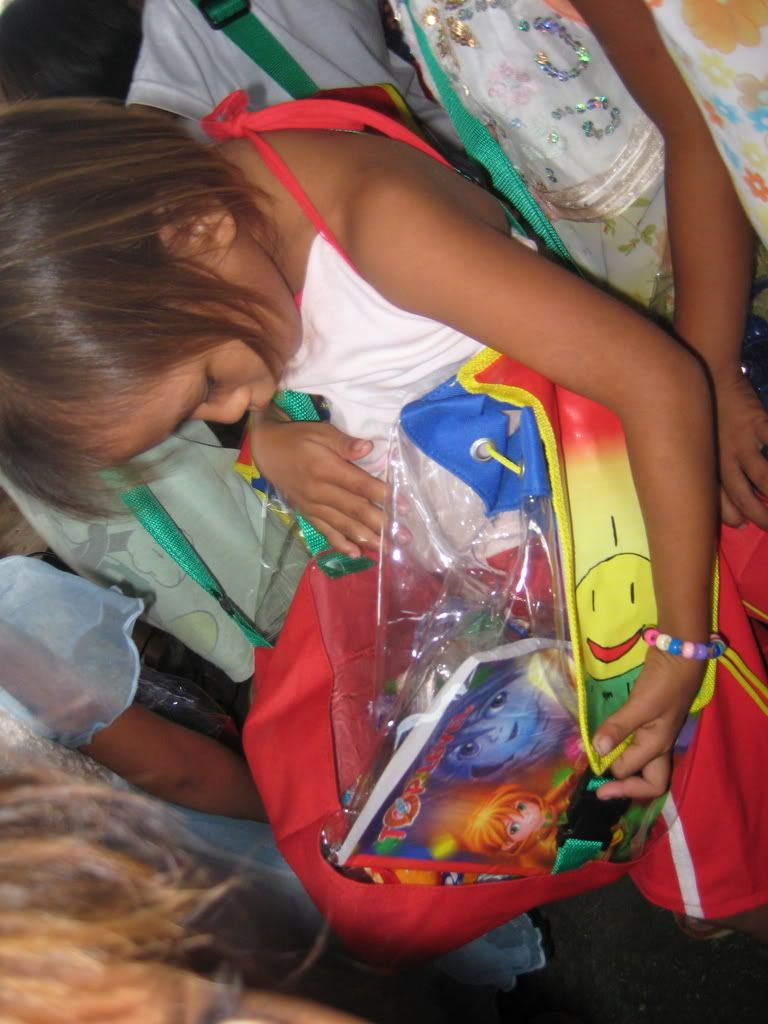 and finally, to mark the moment of happiness, we fixed on every kid the I AM HAPPY pin as a declaration to the universe... we even requested everybody to chant "I AM HAPPY" over and over again...


everybody went home really happy... the badjaos... the charmed ones... and the whitelighters of brownbuds... we are all children of the happy sun.

p.s.

piper, phoebe and prue basked and played under the rain... oh yeah... the rain fell only after we were through with everything... we received with open arms the blessings of bounty that went with the downpour...

what a happy day it was!