oh gahd... i've missed blogging very much... missed connecting with everybody...

my apologies for not saying 'goodbye' before i left... hehehe... but i blew a promise to cyberspace that i'll bring home lots of stories... and insights to share... and pictures/videos to feed the soul... hehehe!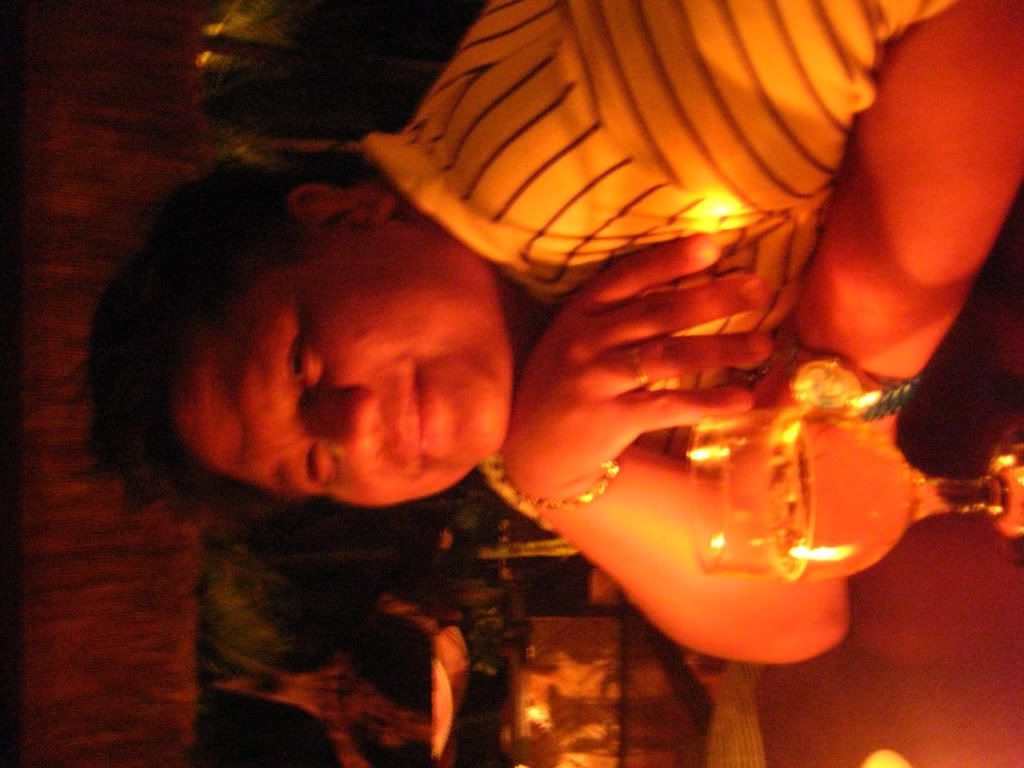 anyway, i am still here in Bohol but piper and i are finally set to return home tomorrow via Pal 12:30pm flight... we were suppose to have been back thursday but unfortunately (was it? hehehe... i think not... except for the fact that i have compromised my camarines sur trip and the team... well... that's life... you can't plan everything so perfectly... masyado naman ata akong masaya kung after bohol, diretso camarines sur pa ako!!! hahaha!), piper and i woke up very late @ 11:30am... the plane just zoomed over the resort... hahaha! there goes our 1030am flight...

and for the love of all that's good and holy, we hoped so much to board the 440pm flight today... waitlisted but seems like we're destined to stay a night longer... everybody that were booked came and flew... while the charmed ones remained stranded and... hmmm... rewarded again for another night of bohol escapade.

so here we are... still in bohol... enjoying the serendipity of our life together... hahaha!

what am i suppose to write about when i get back...? pretty tight and hectic... my weekend til monday may just be about accomplishing the following entries...

1> i still owe you that Rated K Dance... it's long delayed... forgive me... it's been a week now since i launched it...
2> Happy Sun Campaign... everybody deserves to be happy...
3> Preparation for the Badjao Charity Project of Piper's Happy Sun...
4> Children of the Happy Sun... the first ever recipient of the happy sun's ray of sunshine...
5> Post Charity... there's quite a number of angels that should be thanked... the possibility of spreading happiness depended on quite a number of people... heaven's sent to Piper and her brainchild...
6> BrownBuds... i've never loved reggae this much... thanks to the band who i now recognize as my brothers and friends...
7> Balicasag and Virgin Island... Piper and I rewarded ourselves after a very successful charity work...
8> Our veranda nights created memories.. and these i really want to share...
9> one of the topics in the veranda.. STAYER OR PLAYER?
10> Bohol Sunset
11> my most soulful moment in Bohol... THE SUNRISE!

Oh and i think i have sidelights... my friend and her "bana" (bisaya for asawa... not sure if it's stricly for 'husband' or generic for spouse... anybody is welcome to correct me... hehehe!) just can't help but express their love through music... which of course i got on video... thanks to my ever dependable Nokia 93i...

In fact, i'm making a review entry on my N93i... it deserves my appreciation... it was a great great great help...

and then there's these two foreigners who played and bared for me and piper's delight... hahaha! until this entry, il leave it to your imagination first...

hmmmm... then there's Imbot my Crush...

like hell, our bohol trip was just really filled with stories... i'll take my rest for now and start flaunting tomorrow... thank god my official leave of absence is until tuesday... hehehe!

blog away...